Next Meeting
Details of future meetings will be posted here as soon as they have been confirmed.
Watch this space!
All welcome £2
We are hoping to add more timelines to the Properties section of this website so if you fancy doing one for your house, Patrice has a template that can be sent to you.
A bit of news – Delta Academy has a planning application in with HBC to renovate the Old School to use it again as an outdoor facility for their pupils.
If you have anything that is associated with Dallowgill in any way, we would love to see it, as everything, however small and seemingly insignificant, helps towards the bigger picture.
Dallowgill
Dallowgill takes its name from – Dael – from English meaning valley and haga meaning enclosure – Dalhagha, as it was recorded by monks. Gill – meaning ravine, added later. "Dallowgill" was originally applied to the ravine or gill of the River Laver below Dallow.
Historically Dallowgill was part of the ancient parish of Kirkby Malzeard in the West Riding of Yorkshire. It became a separate parish in 1844. When civil parishes were created in 1866 it became part of the civil parish of Laverton, which now shares a parish council with Kirkby Malzeard (Kirkby Malzeard, Laverton and Dallowgill Parish Council). Dallowgill remains a separate ecclesiastical parish, now part of the benefice of the Fountains Group of parishes.
Dallowgill is a dispersed community in an attractive upland area between Pateley Bridge and Ripon, within Nidderdale Area of Outstanding Natural Beauty. Open heather moorland in the west is bounded by the valleys of North Gill Beck and Carlesmoor Beck. These streams flow eastwards, through a diverse upland farming landscape of small grass fields bounded by drystone walls and with areas of native and plantation woodland, to the River Laver and the Ure.
Over the centuries since the last ice-age, influenced by man as well as the changing climate, the landscape has changed from dense forest to vast tracts of peat covered moorland, wooded valleys and grasslands. The area was controlled by Fountains Abbey, prior to its dissolution, and the Monks had a farm at Azerley Grange providing produce for the Abbey. Parliamentary enclosure in the 1780's is largely responsible for the current field pattern.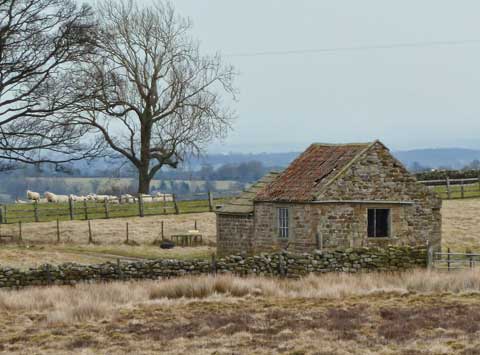 Scattered across this landscape are many farmsteads, houses and barns, built from local grit-stone, with stone slate and blue slate roofs. There are buildings dating from the late 18th, early 19th century and even earlier, but many of the farmsteads, the Methodist Chapel and St Peter's church date from the Victorian era. Several disused quarries at Potter Lane and Swetton, and the deserted village of Lamb Close, are evidence of the former stone slate industry. Greygarth monument, built for Queen Victoria's Diamond Jubilee in 1897, is a focal point near the moorland edge, with wide ranging views across to the Hambleton Hills and the Vale of York as far as York Minster and the Wolds. In the early 20th century the steep-sided valley of South Gill Beck was surveyed by Leeds Corporation with the intention of creating a reservoir, but this didn't happen. The sighting tower at Carlesmoor was used to triangulate the end points of a water tunnel from Roundhill reservoir, near Leighton Reservoir, to Harrogate.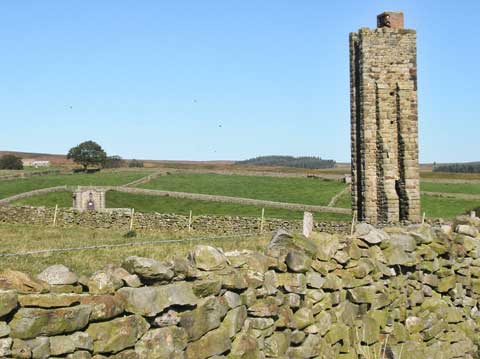 Sighting Tower
The variety of natural habitats in Dallowgill in turn supports a rich diversity of upland wildlife. Native red grouse are managed for sport on the moorland, which also supports many other birds including golden plover, ring ouzel and birds of prey. Redstart and woodcock are found in the native upland oak woodlands. On the "inbye" grassland, the call of ground nesting waders, including lapwing and curlew, herald spring.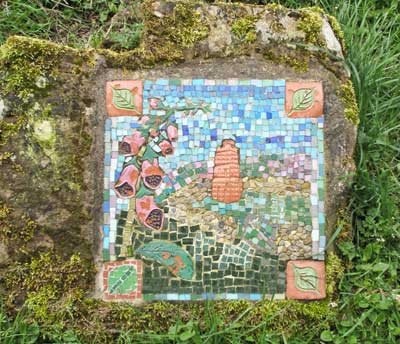 The area is understandably popular with walkers and cyclists, and has a network of public footpaths, bridleways and tracks, including the popular Mosaic Trail
http://kirkbymalzeardareaguide.btck.co.uk/CRACKPOTSMOSAICTRAIL